About Us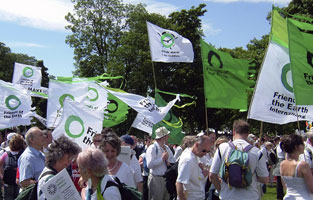 Friends of the Earth gets people campaigning at all levels – locally, nationally and internationally.  Our campaigns over the last 40 years in the UK have been groundbreaking and have been behind laws to protect wildlife in Britain, doorstep recycling for every home and the world's first climate change act.
We believe in environmental justice – that the environment is for everyone and that healthy people and a healthy environment go hand in hand.
Guildford Woking and Waverley Friends of the Earth is one of a network of over 200 local groups of Friends of the Earth in England and Wales.  Our campaigning area covers the towns of Guildford and Woking, the borough of Waverley (including the towns of Godalming, Haslemere and Farnham).
Over many years members of the local group have campaigned
in the 1980s against the widening of the M25
in the 1990s in relation to the A3 tunnel at Hindhead
supported many Friends of the Earth  national campaigns such as the "Big Ask" (to get the Climate Change Act)
Sometimes our local campaigns have been controversial, such as when we supported the proposal for an eco-settlement at Dunsfold Aerodrome between 2006 and 2009.   This is  because Friends of the Earth is not about keeping things as they are (and a fine mess that has got us into!) but about finding solutions to problems.
At the time of writing this (July 2017) we are still absorbing the impact of the death of our good and valued friend Hilary Griffiths in May this year. Hilary was the local group co-ordinator for nearly 20 years.   Hilary also wrote our short but upbeat monthly email newsletters which we have currently had to suspend.
In 2012 our achievements particularly in promoting local renewable energy through  the Wey Valley Solar Schools Energy Co-operative were recognised by other Friends of the Earth local group members.  We were thrilled to be  voted "Group of the Year" at the 2012 Annual Friends of the Earth Conference – here are members of the group  on the stage receiving our certificate from Clive Anderson .