Supporting local renewable energy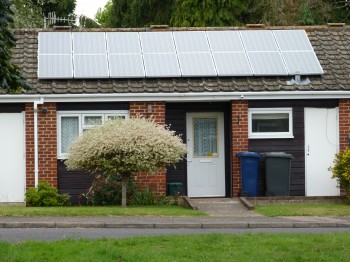 In 2010 we were instrumental in persuading Waverley Borough Council  to install solar pv panels on its council housing.   The work was carried out in 2011 but unfortunately because of the impact of the Government fast track review of the feed in tariffs in October 2011 only just under 500 arrays were installed out of a possible 1400 properties identified as suitable.
The lucky council house tenants who got these solar arrays get free electricity from the panels and Waverley Borough Council gets a roof rent.  We expect some of these arrays are making a significant contribution to reducing the energy bills of some households such as the bungalow in the photo and will have taken some households out of fuel poverty altogether.
Over 500 council houses had arrays installed and it has completely transformed the number of solar panels on some streets.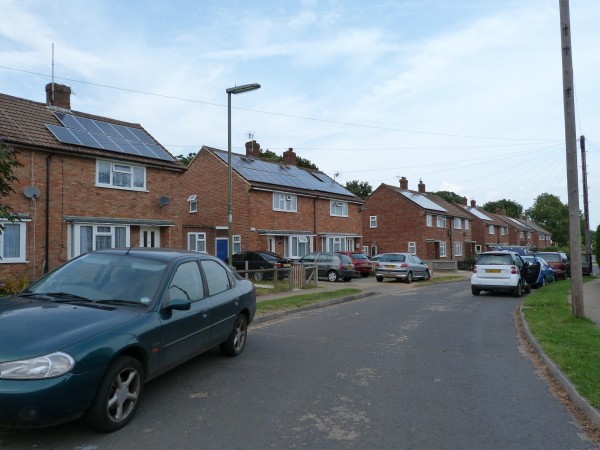 Members of the Guildford and Waverley Friends of the Earth local group have also been key players working with other people from the local community on the highly successful Wey Valley Solar Schools Energy Co-operative which raised investment of over £625,000 mainly from local people.  This was enough to install up to 50kw arrays on 6 Surrey state secondary schools.  The co-operative gives a fair return to its investors and financial and educational benefits to the schools.
The biggest solar array in Waverley is the  scheme at Dunsfold Park which is on a field adjacent to Dunsfold Aerodrome. Guildford and Waverley Friends of the Earth supported this project at the planning stage. The 2MW solar array situated on 6.8 hectares of land supplies renewable energy directly to the adjacent Business Park with any surplus exported to the grid. Dunsfold Park believes this makes their business park the first in the UK to be entirely supplied by renewable energy!